SXSMez
Yo so I just rolled back from SXSW...shit was off the rim. We drove down there since plane tix were $550 bucks (fuck that). Myself and Matt C, who does promotions at 99X, spent 2 days driving there and back, but it was well worth having the car. We spent a considerable amount of time enjoying the Sirius Satellite radio that came with the Chrystler Seabring. A very fine car I must say.
Sirius Faves:
Howard 100 (Stern is really good show...Bubba the Love Sponge isn't. "Liquid Ass...click")
Radio 1...BBC radio is fucked up, yet rather enjoyable.
Raw Dog comedy (Started crying and almost crashed the car when we heard Patton Oswalt's Robert Evans ESPN commercials)
Left of Center (although I'm about sick of goddamn Peter Bjorn and John)
various rap and alt stations that played the jams
So we were lucky and got to stay downtown at the Hampton Inn. It was right in the middle of the action. We went by the convention center and grabbed our 50 pound bag of bullshit.
Things worth keeping:
UGK CD sampler
copy of Blender
copy of Paste
and uhhhh...some first aid kit that actually ended up coming in handy when Matt cut his finger at the Stooges gig
All the rest quickly made it's way to the trash can.
We then made our way over to the Fader Fort, which was a pretty bad ass complex that Fader magazine built with the help from Levi's and that piece of shit Microsoft Zune media garbage. They had free beer, SoCo hunch punch and water, so that was dope. They were jamming the new Queens of the Stone Age CD (it kills, can't wait to get it) and we hung out for a bit then checked out the Pipettes
Then we bounced over to the Waterloo record store to catch Lily Allen's set. The place was fuckin' packed since Sparklehorse was in mid set, so we had to stand in a long ass line while some dude giving out ice cream was tossing scoops across the street to some Hot Topic lookin' Asian chicks with pink hair. One almost got hit by a car. The Lily in-store was bad ass, she did 3 of her own songs plus a Kooks and a Blondie cover. I picked up a copy of the Deerhunter CD for cheap too. Good buy.
We walked around the city some more...Austin is super rad, but our bags were weighin' heavy, so we went back to the hotel to drop 'em off.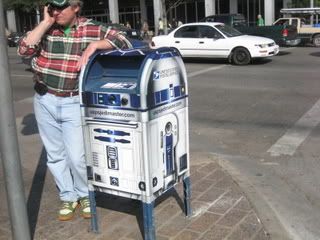 This mailbox is dope
We rolled back into the fader spot and caught sets from the Fratellis (who killed) and the Whigs. Sam Gunn is playing bass in the Whigs now, so it was good to see some fellow WUOG alum doing well for themselves. Their set was on point and the crowd was waaay into it. They had the amps amped.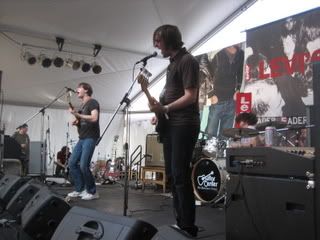 We caught up with our friend Jay and checked out a bunch of other shows and Matt spilled a giant Diet Coke at the Pizza spot like a re-re. Later on we saw that shitty band Foreign Islands (I have no patience for New York hipster douchiness). We also caught a really good band from Iowa called the Envy Corps. Wasn't expecting much, but they brought the thunder. Those guys will do very well for themselves. We bounced and went to catch the Amy Winehouse show, but her set had been pushed back to 1am. Had to sit through two garbage sets from Straylight Run (boring emo) and Fair to Midland (lame genric nu-metal doodoo) before she went on, but when she did it was on point. She played almost every song off the "Back to Black" album and had a full band behind her. The two back up singer dudes sounded like Sleepy Brown awesomeness. Good stuff.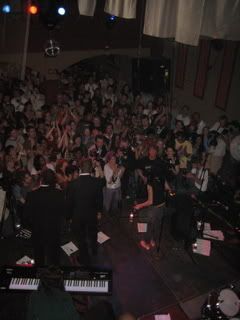 Love the Amy
After that we crashed out after a long ass day one. We probably walked 6 miles that day. I don't exercise, so I was cashed. The next morning we hit a brunch and rubbed elbows with some record folks, then went over to the convention center for a panel.
Featuring:
Tom Morello
Matt Bales (aqualung)
some dude from the Hoodoo Gurus
Brit Daniel of Spoon
Corey Rusk (owner of Touch and Go Recs)
and.............Taylor Fuckin' MMM-Bop Hanson
Interesting chitchat about the music industry and afterwards I apologized to Brit Daniel for 99X booking them on a show with Switchfoot and Rehab. He said it was he only time he can ever remember people throwing shit at him onstage....yikes. Then I took this picture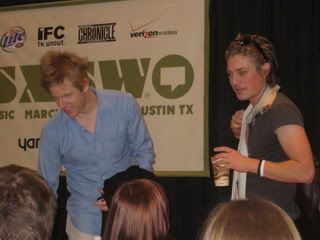 Match made in heaven
After the panel I went to the bathroom and Tom Morello stepped to the urinal next to me, which was very weird. We left the bathroom and Morello proceeded to follow us down the escalator like a creepy stalker dude so I took a picture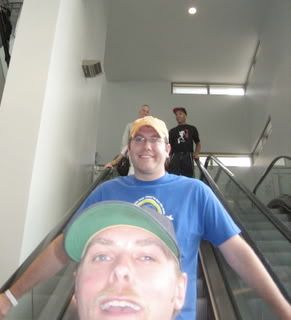 Me, Matt C and Morello....Audioslave was a horrible band
We caught a quick Watson Twins set in the convention center snack lounge. Kinda odd, but I like those ladies. They are tall and have good voices. We met up with some folks from a promotions company that hooked us up with the badges and happened to walk out onto the patio to a Tilly and the Wall set. "I need more taps in the monitors" was the battle cry. Mason from Jet By Day was playing guitar with them. Not a bad gig. We dipped and went over to this other party and were talking to someone when Matt spotted someone who resembles Pete Townshend. I looked over and mutha fuckin' PETE TOWNSHEND was standing like 2 feet next to us. Mind Melter! That guy's wrote some songs that are good. Mental trip out moment of the entire fest. Had to leave after that...it was too rad.
We drove across town to the Vice outdoor show and there a bagillion people there and since Turbonegro had just played all the beer had been consumed. We met up with my contact at Vice Records and she introduced me to the boys in the Black Lips. One of the dudes was kickin' rad gold fronts and they agreed to come up and do some stuff on Sunday School some time, so I was stoked. Also ran into a ton of Atlanta folks down there. A-town was reppin' hard at SXSW. Zoroaster, the Carbonas, Deerhunter, the Black Lips, etc. etc....glad to see folks diggin' the local scene. Panthers played (kinda not good) then the Lips showed out.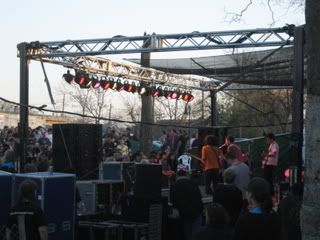 No mouth pissing today :(
We left there and went to diner then caught back up with our friend from Vice and watched hoops for a couple hours at a sports bar. Nice to catch a break from all the crazy shit for a while. Afterward we went down to Stubbs to see Damon Albarn's new project the Good, the Bad and the Queen. Saw the Watson Twins and their entourage unable to get in…damn. We happened to roll in early enough to see a horrible set from Badly Drawn Boy. I haven't seen a band fuck 3 songs up in a set since the Delirium a few years back. I guess hat guy need to draw some sympathy from the crowd, so he broke out a Journey cover and that made it better for some, but for most, not quite. Albarn's band came on later and were decent, but honestly rather boring. The new album is really good, but it's pretty much a headphone record...even if Paul Siminon is in the band. Afterwards, bedtime.
The next morning we got up late as fuck and grabbed some food...walking around we saw Wayne Coyne doing some TV thing with a bunch of local weirdoes
Over the course of the week we saw these dudes at least 2 or 3 times (STOP SWEATIN" US!!!)
Wayne Coyne
Brit Daniel
Kieth Morris (Black Flag/Circle Jerks)
Tom Morello
Matt Pinfield
Bloc Party
Made our way back over to Stubbs for the Ghostface Killah show, but got there a bit early. Some dude from Los Angeles named Mickey Avalon was on stage and it was probably the worst show I've ever seen in my life. He's one of these hipster, Cobrasnake, latenightpaty.com fuckin' pieces of shit new school sleazy types. Doing his terrible raps, while all the sorority girls creamed their jeans for his lame shtick. If this was 1988 he would have been the singer in Britney Foxx or Faster Pussycat, except not as cool as those guys. As a point of reference, this is what he looks like
I really wanted Ghostface to come out and cut his throat with the eagle gauntlet...unfortunately that didn't happen, but when Ghostface did come out…HE SLAYED! He had a back up band and easily turned out one of the best shows of the whole festival. Jammin' tracks from all eras, while his Theodore-Unit boys repped Staten Island hard. Ghost still gave out mad Wu-Tang chants throughout the set too, which was great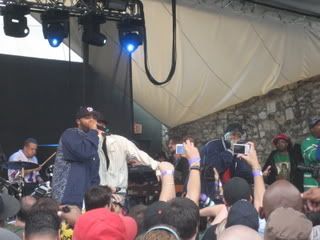 Bein' all Ghostface-ish
He also brought a ton of chicks up on stage for a dance party while they jammed some more songs. They closed the set with "Back Like That" and the place went nuts. One of the best rap show I've ever seen.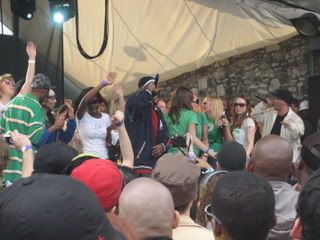 Still bein' all Ghostface-ish
We slipped on over to the Filter party and met up with out friend from Mute Records and caught the Swedish band Mando Diao, who killed as well. I wasn't expecting much as up-tempo, mod-style garage bands are a dime a dozen, but these guys are the real deal. Good stuff...looking forward to the new record. We met them afterward and they were fine lads too.
Jammin' hard
We quickly made our way back to the Fader Fort and got ready for a deluge of radness from Ladyhawk, Vietnam and Redman. We slammed some more of the magic SoCo hunch punch and let the excellence begin. Mez Eclipse faves Ladyhawk brought the Canadian hammer down on the crowd.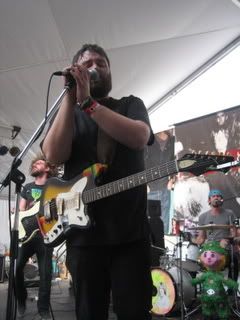 Me likey the rock n' roll
Vietnam was spot on as usual and then we got a dope ass set from Redman who smoked a j on stage, pounded some brews and told the crowd his album was coming out on March 27th like a thousand times, but it didn't matter, he was in the zone. He even busted the soundman's balls telling him it sounded like the beats we "coming out of a walkman." People ate it up like a Willy's burrito. Mad delish.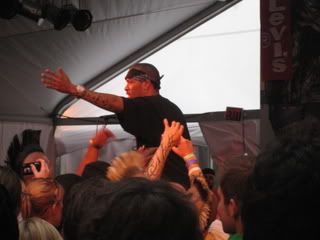 Fuck tha Security!
We were pretty wasted by the end of the show, so we went back to the hotel to crash out for a minute....then woke up 2 hours later and realized it was 9:00 and were waaaay behind schedule. Matt and I jumped in our car and headed out into Texas Chainsaw country to grab some bar-b-q at the Saltlick, which is a Austin staple and every bit as good as people said. We didn't bring the bottles of Hennessey and the coolers of brew in like the rest of the clientele did, but totally should have. Why don't more places let you do that? Being behind schedule sucked a dick, so we missed the Kings of Leon and 90% of Spoon's set at Stubbs. We caught the last song and did some mental push-ups cause the Stooges were up next.
Iggy and Watt went OFF...those dudes can still put it down harder than 99% of your favorite bands. My mind was melted and as it got later we realized that it was time to dip as the clock hit 1:15.We had to get up the next morning at 7:00 to hit the road, so we called it a night. We had an invite to the Vice after party, which had Against Me, Fucked Up, the Black Lips and Les Savy Fav playing....no way we were making it with a 16 hour drive ahead. Turns out that Against Me played, but after 2 songs of the LSF set, the back porch fell off the place they were having the party. At 2am the cops rolled up and shut the shit down...oh well too bad we missed it.
We hit the road the next morning and made it back to Atlanta around midnight...it was an amazing trip and like J Dilla we were out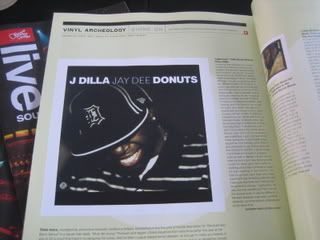 Sweatin' us from the grave
Sorry about the typos and apologies to the folks we weren't able to catch up with while we were out there (Crews, Specht, Shark, Dan and anyone else that we missed)
Til next time…SXSMex is done